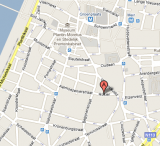 Address
Rosier 41
2000 Antwerpen
T + F : +32 (0)3 225 53 03
Weekly opening hours:
Monday to Saturday from 10:30am to 6pm
Sunday closed
We sell your selected labels!:
It is kindly requested to make an appointment for intakes!
Shop Special days' s and Closing dates in 2016
Monday March 28th Eastern
Thursday May 5th Ascension Day
Monday May 9th till Friday May 13th holiday
 May 16th Whit Monday
Thursday July 21st national holiday
 August 8th till August 15th holiday break
Tuesday November 1st All Saints'Day
November 7th till 11th
 December 25th Christmas!
December 24 and 31 shop will be closed at 4pm!
 January 1st  2017
JANUARY….. SALE!
Check our  Facebook page for our special events!
Email us
shop@rosier41.be
Join us on facebook